If you've never made your own playdough before, this is the recipe to try. It's super simple to make, and it turns out perfect every time. Plus, the Kool-Aid makes it smell yummy 😉
Ingredients:
1 1/2 cups all-purpose flour
1/4 cup salt
1 package Kool-Aid (any flavor)
1 teaspoon cream of tarter
1 cup water
1 tablespoon vegetable oil
food coloring, if desired (for more intense color)
Directions:
Combine flour, salt, cream of tarter, and Kool-Aid powder in a medium saucepan.
In a separate container, heat water to nearly boiling. Add oil.
Add wet ingredients to the dry ones already in the saucepan. Cook over medium-low heat, stirring constantly.
When mixture begins to clump together and form a ball, remove from heat. Continue stirring. When mixture cools enough to handle, remove from pot and knead by hand until smooth.
If a more intense color is desired, additional food coloring can be added at this point. Add a few drops at at time and knead by hand until color is uniform.
Store in an airtight container. Ziploc bags work just fine, but small canning jars do the job and look pretty 😉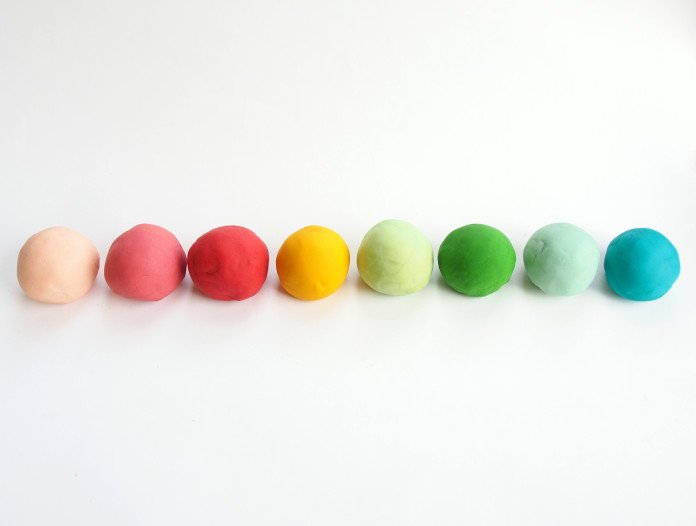 I made 4 batches of this recipe and then divided each in half. I left four of them as is with just the Kool-Aid for coloring. They're the paler colors shown above in my playdough rainbow – the lighter rosy red, peach, pistachio green, and pale aqua. The other four have additional food coloring added to them to intensify the colors.
Once you've tried making this playdough, and seen just how easy it is, I guarantee you will never go back to buying tiny little containers of the overpriced store bought stuff again. I hope you all have as much fun with this project as I did!
**Update** The playdough smelled just fine at first, a couple of the flavors of Kool Aid even had a relatively nice fake fruity scent, but after a day or two it just didn't smell very good. Not horrible or anything – just not very good. And as far as I'm concerned, the smell is one of the most important aspects of playdough. The smell of the store bought stuff still brings back fond memories of childhood for me. So, I experimented with a couple different methods of adding scent.
Since mine was already made, I just added scents to the finished playdough and kneaded them in well. This worked just fine, however, next time I would try adding them along with the rest of the ingredients just to make things easier. I tried both essential oils and extracts (the kind you use in baking). Both actually worked really well, so use whatever you prefer. It only takes a couple drops of essential oil, but requires a bit more extract since it's not as concentrated. I used a scant 1/8 teaspoon of extract for each of my 8 colors, so if you were adding it to the entire recipe, you should use a scant teaspoon. For the essential oils, I used 2 drops for each color (16 drops for the entire recipe). I tried vanilla, almond, lemon, and peppermint. My favorite was the lemon extract but a combo of peppermint & vanilla (one drop of each) was a close runner up. Experiment & use your whatever scents you like best. Let me know what your favorite is!
Also, since this playdough doesn't contain any preservatives, it doesn't last forever. To increase its shelf life, store it in a cool dark place in an air tight container, or better yet, in the refrigerator. I have started keeping mine in the fridge, and this keeps it fresh for months.