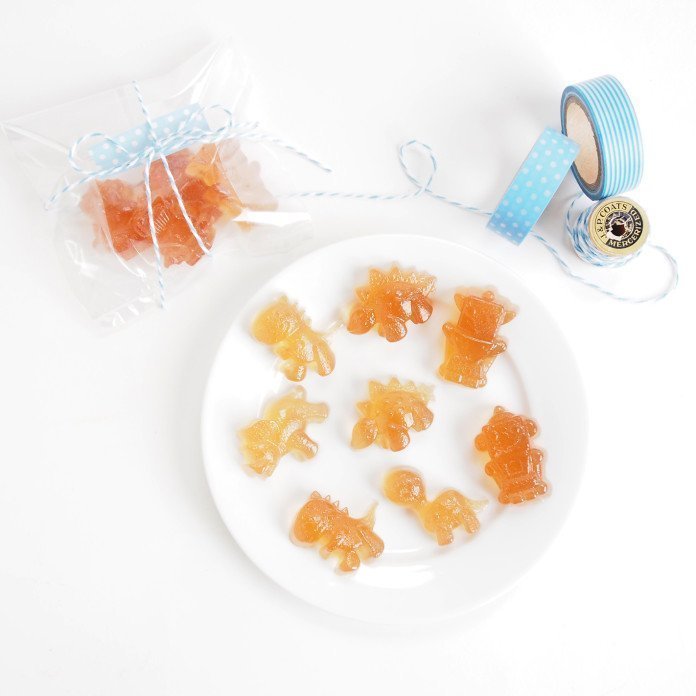 Fruit snacks have become a major point of contention in our household, and I'd be willing to bet we're not the only ones with this problem. The debate goes something like this – Small child: "But they're healthy, mom! They're fruit." Me: "You already had some with lunch, and just because they say "fruit" doesn't mean it's the same as eating fruit. Hey, I have an idea, why don't you have some actual fruit?" Kid: "Nevermind, I'm not hungry anymore…"
It's not like fruit snacks are the worst thing in the world. I think of them like candy, ok in moderation. I buy the organic ones, but they're still high in sugar, and as far as I can tell, low in fruit (or any of the associated nutritional value). So, I decided to try to make my own healthy version. I succeeded, in part. I came up with a healthier version. Mine aren't exactly packed with nutrients either, but they are made with real fruit juice, free of sugar and preservatives, and my kids like them. Actually, my kids LOVE them! (I don't blame them…they're actually pretty tasty.) After a bit of fiddling with the recipe, here's what I came up ~
I used the "cranberry nectar" shown above because it's what I had in my pantry. It turned out to be great in these though. It's actually a blend of cranberry, apple, and white grape juice. I wanted to try making these with juice the first time around, because I thought the result would be the most similar to the store bought variety (and therefore more easily accepted by my picky kiddos). In the future though, I want to try to make them using pureed fruit instead. Maybe raspberry with a bit of fresh-squeezed orange juice? Sounds pretty yummy to me!
I ordered these molds from Amazon. Here is a link if you want to order the same ones: Robot & Dinosaur Candy Molds. I think these ones are super cute, and they worked like a charm. I really don't think that greasing them was even necessary. The gummies came out easy peasy once they were all set up. They're bigger than store bought fruit snacks, but this doesn't bother me, and I love the cute shapes. You could probably find candy molds with smaller shapes though if you wanted to.
The first batch I made using the gelatin shown on the left. It's great stuff, jam-packed with all kinds of nutrients, touted for its health benefits. I special ordered it just for this purpose. How great would it be if I could not only make fruit snacks that didn't have any "bad stuff" in them, but were actually nutritious. And…they tasted TERRIBLE. I mean really, truly awful. I spit out the one I had put in my mouth, and threw the rest of the batch away.
Knox gelatin it is then. One nice thing is that this is readily available at most grocery stores. Just look for the unflavored gelatin next to the other flavors of Jello. It's not bad for you, it's just not as good for you as the other kind…but it has the added benefit of not tasting atrocious. So, there's that.
I made a batch both with and without added honey. I have to say, there isn't a huge difference in taste between the two. The honey ones are a touch sweeter with just a hint of honey flavor, and I love honey, so I would probably add it again next time. I included it in the recipe below, but feel free to leave it out (or add more) if you prefer.
Homemade Fruit Snacks
---
(time = 20 minutes, plus an hour to cool and set)
Ingredients:
1/2 cup fruit juice or fruit puree, any flavor
2 packets Knox gelatin
1 tablespoon honey (optional)
Directions:
Prepare silicone candy mold(s) by greasing very lightly. I used coconut oil, but use whatever you would ordinarily use to grease a baking dish.
Measure fruit juice and pour it into a small saucepan. If juice is cold, warm it up just barely (to room temperature) otherwise just use it as is.
Sprinkle the packets of gelatin over the top of the juice a little bit at a time, pausing to whisk it in thoroughly to avoid clumping.
Warm the mixture to almost boiling over medium-low heat, stirring frequently. Remove from heat. Skim off any foam that has accumulated on top.
Carefully pour the mixture into prepared silicone candy molds (can also be poured into a lightly oiled baking dish and cut into bite-sized pieces once cool).
Refrigerate until fully set, about 1 hour. Store in an airtight container, either in the pantry or the refrigerator.