I spent a lovely afternoon in the kitchen yesterday baking batch after batch of tiny little pies. I experimented with different sizes, different shapes, different fillings. I tried rolled, crimped, pinched, and pressed edges. I decorated the tops with tiny little heart & flower cut outs. And then, we all ate pie like it was going out of style. I ate so much pie, in fact, that I had to forego dinner (a girl has to make sacrifices sometimes, right?). After spending the first part of the week sick in bed, I needed to make up for lost time!
Now I have made my fair share of pies in my life, but this was the first time I have ever attempted mini pies or 'hand pies'. Not so different from making a regular sized pie, right? Just make it a bit smaller. Well, that's the basic idea, but I did learn a few lessons along the way…
First, the fruit for the filling needs to be chopped up much smaller. Keeping the filling pieces small ensures that they will have a chance to cook thoroughly during their relatively short time in the oven.
Second, I wouldn't recommend anything smaller than a 4 inch circle (the ones shown above are just under 5 inches). I tried some 'biscuit sized' pies, and while they looked super cute, they just didn't hold enough filling. Even for a die hard crust-lover, they were a bit heavy on the crust to filling ratio.
Third, make the top crust larger than the bottom (just like you would for a regular pie) so that it has room to stretch over the filling. And when you seal the edges, first roll the bottom edge up to meet the top crust edge and then crimp it.
Finally, you don't need nearly as much filling as you would for a regular pie (I had LOTS of extra). Not to worry though, I put it to good use ~ check back next week to see the recipe for Strawberry Rhubarb Ice Pops I made (yum!).
Strawberry Rhubarb Hand Pies
---
(servings = 6 to 8 mini pies, takes about 2 hours to make)
Ingredients:
1 recipe of  your favorite pie crust
3 cups strawberries, hulled and finely chopped into approximately 1/4 inch pieces
3 cups rhubarb, finely chopped
1/4 cup sugar (you can add more to taste, I like my pie on the tart side)
1/4 cup orange juice (preferably freshly squeezed)
2 teaspoons grated orange zest
1/2 teaspoon ground cardamom
1/4 teaspoon freshly ground nutmeg
Directions:
Preheat oven to 350 degrees. Line a baking sheet with parchment paper.
Make pie crust. Divide into two equal pieces and press each into a disk approximately 6 inches wide. Wrap disks in parchment or waxed paper and place in the refrigerator to chill while you're making the filling.
Place strawberries, rhubarb, sugar, orange juice, zest, and spices in a large bowl, and stir to combine.
Remove one disk of crust from the refrigerator and place it on a lightly floured cutting board. Roll with a lightly floured rolling pin until crust is an even thickness of just under 1/4 inch. Cut four circles of approximately 5 – 6 inches (or whatever size you prefer for your pies). I used the lid of one of my large pantry storage jars as a makeshift cookie cutter. You could also cut a circle out of parchment paper and use it as a template to freehand cut your circles with a sharp paring knife if you can't find anything to use as a cookie cutter.
Place a scoop of filling in the middle of one of the crust pieces, leaving at wide enough border around the edges to allow you to seal and crimp the finished pie. Place a second round of crust on top. Brush a bit of egg wash on the edge of the bottom crust to ensure a good seal. Roll bottom edge up and over top edge and crimp. Cut a slit to allow the pie to vent.
Place pies on baking sheet and bake for approximately 30 minutes (depending on the size of your pies) rotating the pan once halfway through cooking time.
Serve warm with whipped cream or wrap individually once fully cooled.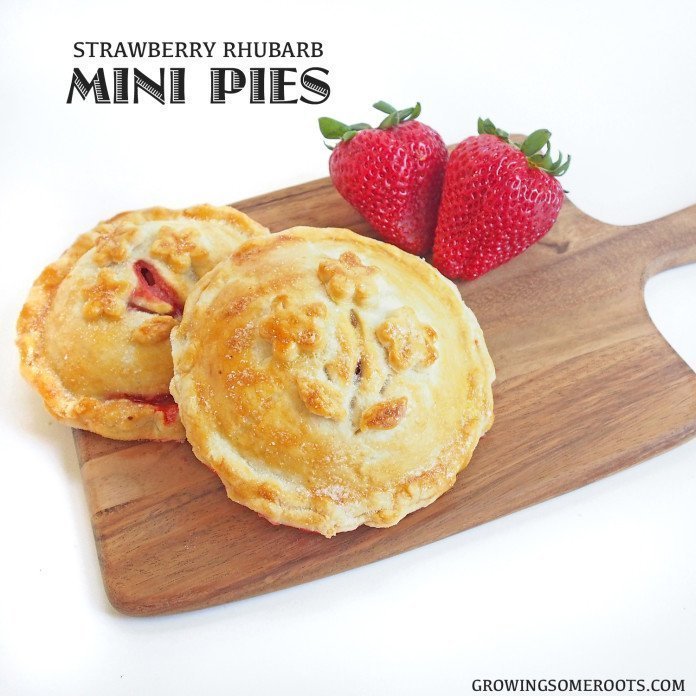 Source: Recipe adapted from Bon Appétit, March 2005 via Epicurious.