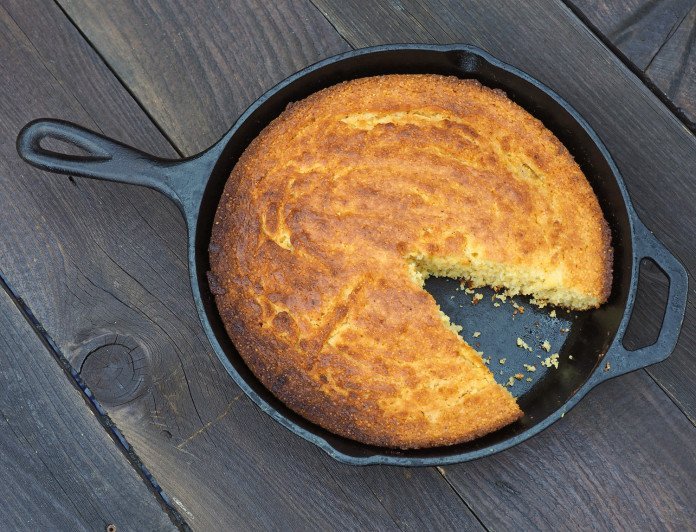 It's no secret that I'm obsessed with honey, and this cornbread is one of my favorite ways to indulge my obsession. It's moist and delicious with a golden brown crust. It's perfect alongside a bowl of soup or a simple salad. I made it last week to go with my 'Wild Kale & Baby Dill Salad with Fresh Raspberry Vinaigrette' and everyone in my house loved it. My kids both asked for seconds, and we finished it off for breakfast the next morning!
Honey Sweetened Skillet Cornbread
---
Servings = 8, Time = about 40 minutes
Ingredients:
1 cup cornmeal, medium grind
1 cup all-purpose flour
1/4 cup sugar
1 tablespoon baking powder
1 teaspoon salt (optional)
1 cup whole milk
1/2 cup honey
1 large egg
4 tablespoons unsalted butter, divided
Directions:
Preheat oven to 400 degrees. Warm up a 10″ diameter cast iron skillet in the oven for approximately 10 minutes.
Whisk cornmeal, flour, sugar, baking powder, and salt (if using) in a large bowl. Pour milk, honey, and egg into a medium bowl and whisk to combine.
Melt 2 tablespoons of the butter and add to the milk mixture. Stir to blend.
Remove skillet from the oven and add the other 2 tablespoons of butter. Return briefly to the oven to melt the butter.
Add wet ingredients to dry ingredients and stir until just combined.
Remove skillet from the oven and swirl to distribute the melted butter. Pour batter into the hot pan and return it to the oven. Bake until a toothpick or skewer inserted in the center comes out clean, approximately 22 minutes.
Serve warm with butter and honey. [/recipe]
You can bake this cornbread in any ovenproof skillet or even a cake pan, but you won't get the same crispy, golden brown crust. If you don't have a cast iron skillet, you should really consider adding at least one to your cookware collection. I like this one – Lodge Logic 10″ Chef's Skillet. Lodge Logic cookware lasts forever and is very affordable. In fact, my Lodge Logic dutch oven is, hands down, the most frequently used piece of cookware in my kitchen (Just between you and me, I'm a little bit in love with it! Don't tell my husband…)
The recipe is adapted from Bon Appétit Magazine via Epicurious.
Enjoy!