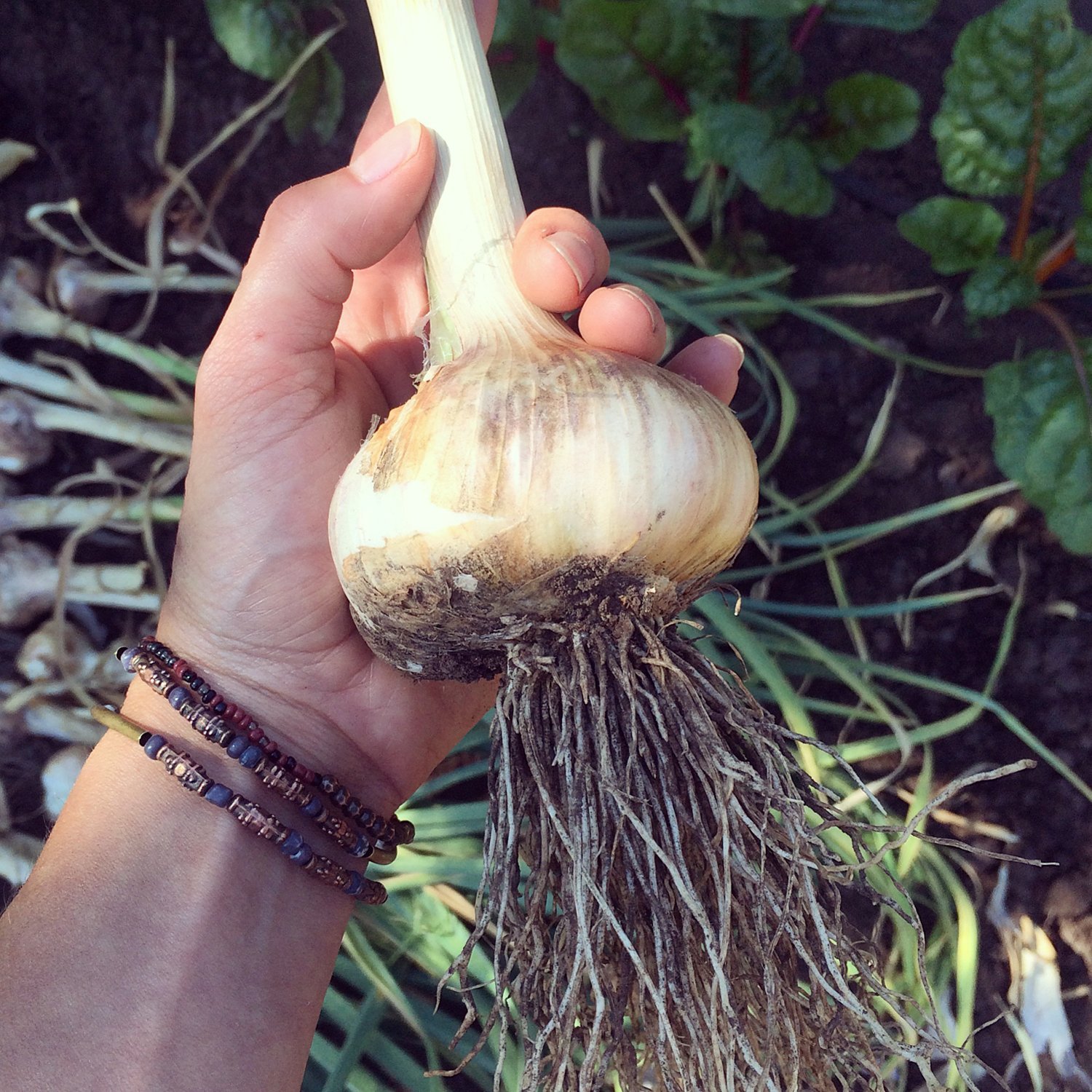 The weather has been playing tricks on me this year. I live (and garden) in the Pacific Northwest, USDA zone 8a (if you live in the US, and aren't sure what zone you're in, you can enter your zip code into this handy dandy little app and it will calculate it for you: What Zone am I In?).
Ordinarily, my garlic is ready to harvest by the last week of July (maybe the 3rd week if we have an especially rain-free early summer). This year, it was showing all the signs of being ready on July 1st! Wait, what?! Well, it has been a particularly hot, dry summer so far (the hottest and driest on record, as a matter of fact), and since the garlic doesn't really care what the calendar says, it went right ahead and matured early. Good thing I was paying attention, because it would have been much too late if I had left it in the ground until the "normal" harvest date.
The point is, you can't always rely on the calendar when it comes to the garden. You have to learn to listen to your plants instead, which can be a little trickier. Well, not really, you just have to know what to look for. For those of us who didn't grow up on a family farm where this sort of information was served for supper, alongside the homegrown veggies and a steak from 'Steve the cow,' at least we're fortunate enough to live in the age of the internet. So, if you're in need of garden advice, your answers are no more than a Google search away (thank goodness!).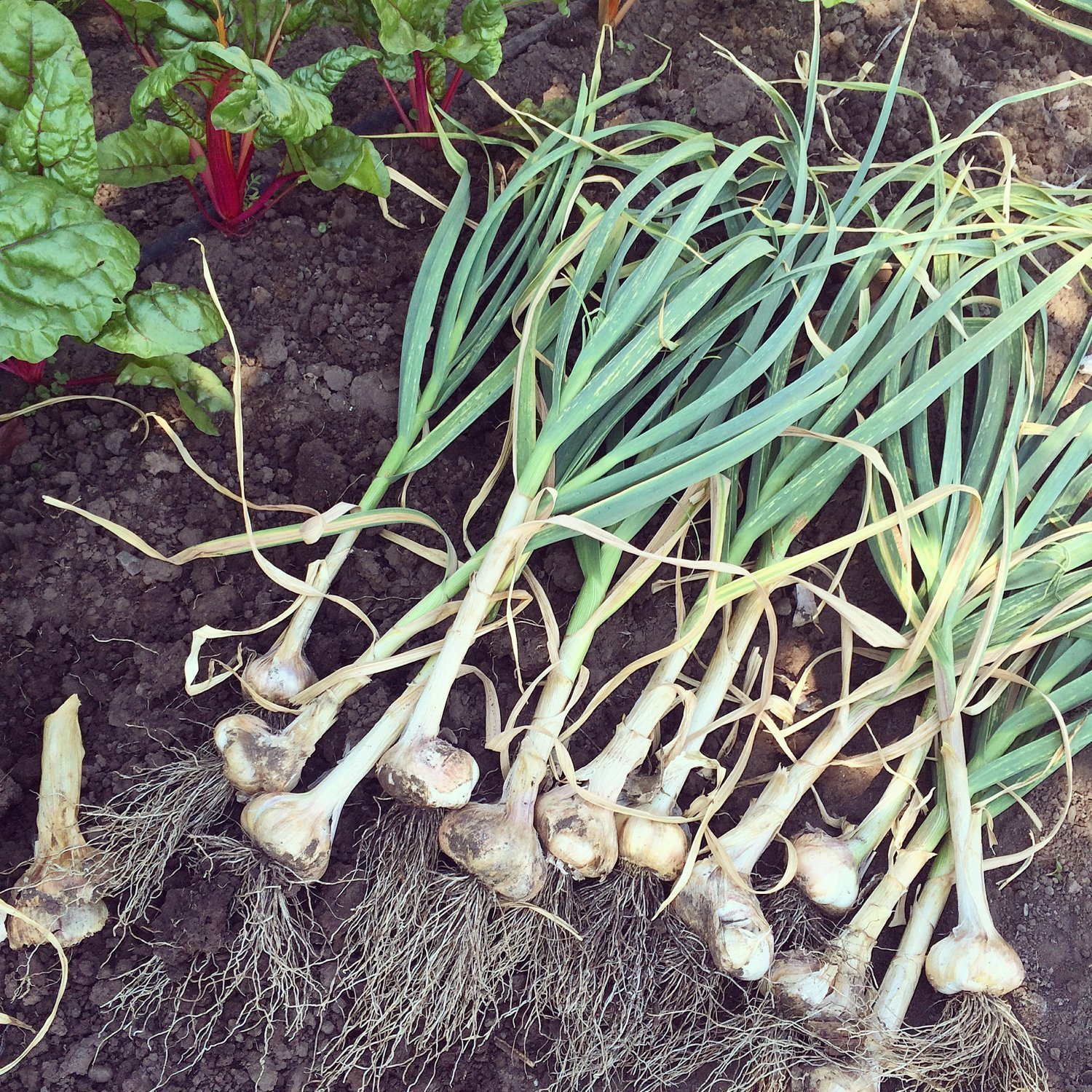 In the case of garlic, the signs that it's time to harvest are pretty straightforward. You want to see a few of the outer leaves turning brown and dying (see photo above). There should, however, still be 5 or 6 nice green leaves left in the center of the plant. If you're growing hard neck garlic, the scapes (flower stalks) should have started forming about a month ago. Poke your fingers down gently around the bulb and check the size – or pull one up and examine it. The papery wrapper should still be intact and the cloves should form a nice, tight head.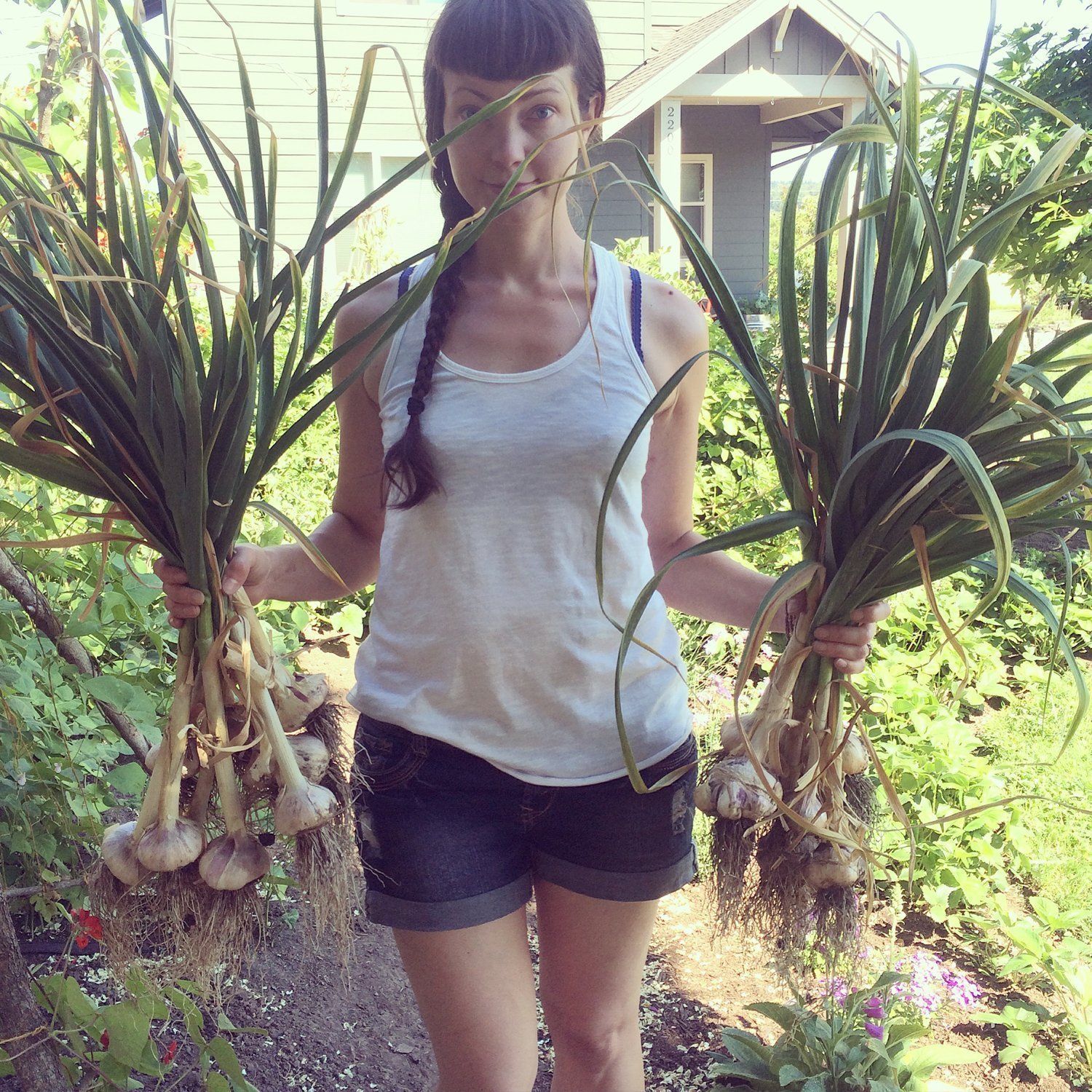 If your garlic plants are showing all the signs of being "finished", go ahead and pull them up, no matter what the date says on the calendar. To harvest, simply loosen the soil around the bulbs and gently lift each head. Shake the excess dirt off the roots, but don't remove the papery wrappers (the outermost layer may come off by itself – don't worry about this, it's normal). If you have a protected location, out of direct sunlight, you can simply spread them out and leave them to cure on the ground. I prefer to gather them into bunches of 5 or 6 heads, tie the stems together with twine, and hang them under the eaves of my house (an open garage or shed also works well). You need a place that has good air circulation and is out of direct sunlight and rain. If you don't have the perfect spot, you may need to create one. Shade cloth and/or fan can be helpful here.
Garlic should be left to cure until the tops have completely yellowed and the roots are dry and hard feeling. This takes between 4 to 8 weeks, depending on the original moisture level of the plants and the humidity level of the air. Once fully cured, you can remove the dirtiest outer layer of "paper", trim the roots, and cut the stems to about 1 inch long. The heads can then be stored in bags (I make mine from burlap so they have plenty of ventilation), and hung in your root cellar or another relatively cool, dry location. In ideal conditions, the best storing varieties will keep well for 6 to 9 months. In a slightly less than ideal location, they should still last a good 4 to 6 months, depending on the variety. To stretch your garlic supply even further, consider freezing a portion of your harvest.
*I will update this post with detailed freezing instructions after I have had a chance to freeze some of my own and take some photos to share with you 😉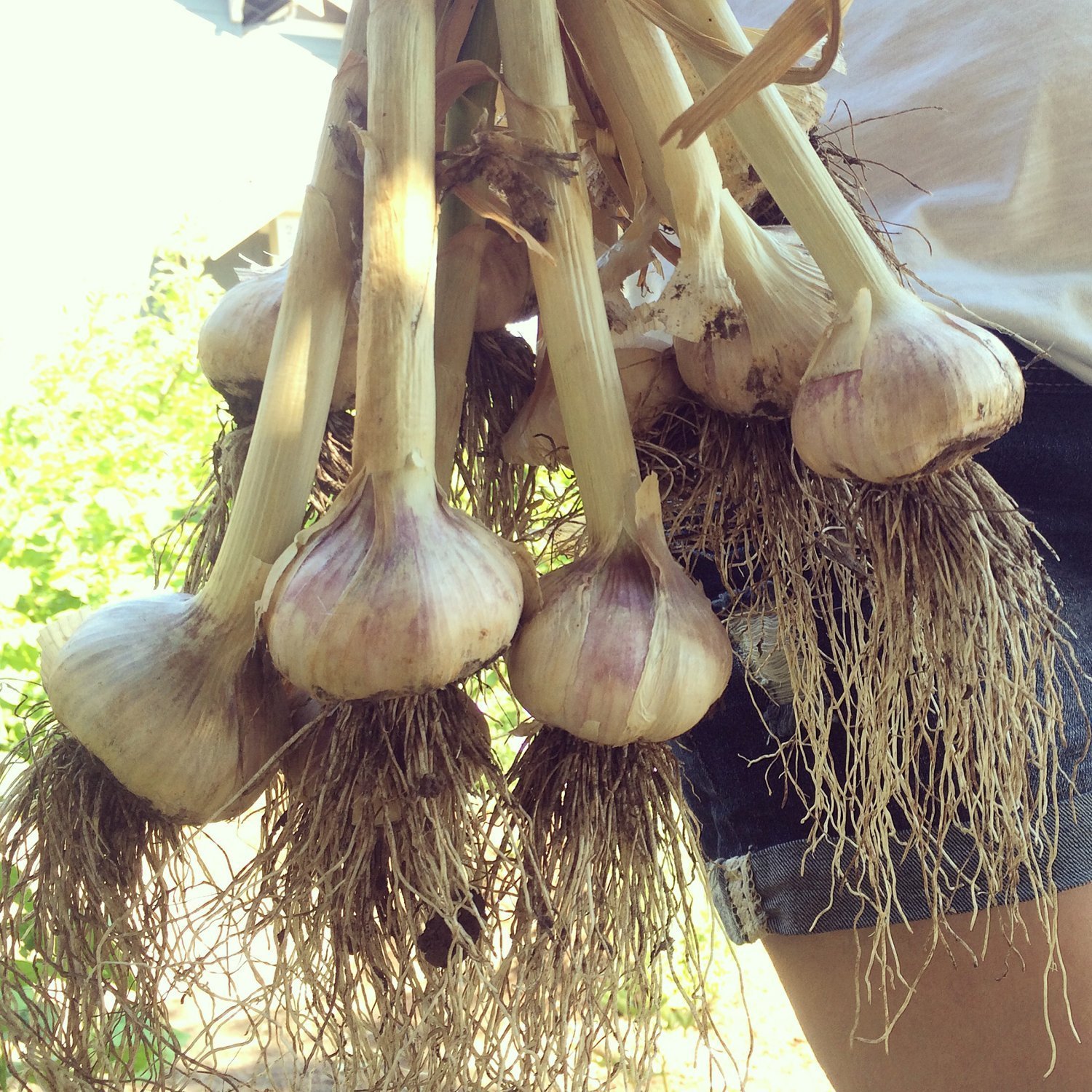 This year I planted 8 ounces each of two different varieties of garlic – Duganski, a hard neck variety described in the Territorial Seed Company catalog where I ordered it from, as a "stunningly beautiful, purple stripe garlic with large bulbs and an amazing flavor" and Susanville, a popular soft neck variety, one of the best for roasting, whose "generous-sized cloves slip apart easily after roasting and spread effortlessly on French bread or tomato slices." Garlic is planted in the fall, and grows slowly through the winter, picking up speed in the spring, and finally maturing in mid-summer. It's quite easy to grow, but when you're considering where to locate your garlic plants don't forget that they will occupy that space for the next 9 months.
I was pretty darn pleased with my garlic harvest this year. That one pound of seed garlic that I planted back in October, produced 52 huge heads of garlic – more than 15 pounds total! That is, by far, the best yield I have ever gotten from garlic. The only thing I did differently this year, was to side dress the plants with a little complete organic fertilizer in the spring. I have no idea if that contributed to the larger than average harvest, or if it was due to the quality of the seed garlic itself, or perhaps a result of the wonky weather that we've been having lately. Either way, this garlic lover is a-ok with the results!

Want to learn more about growing great garlic? Check out The Complete Book of Garlic by Ted Jordan Meredith.
This post contains affiliate links. These affiliate links help support this site. For more information, please see my disclosure policy. Thank you for supporting Growing Some Roots.