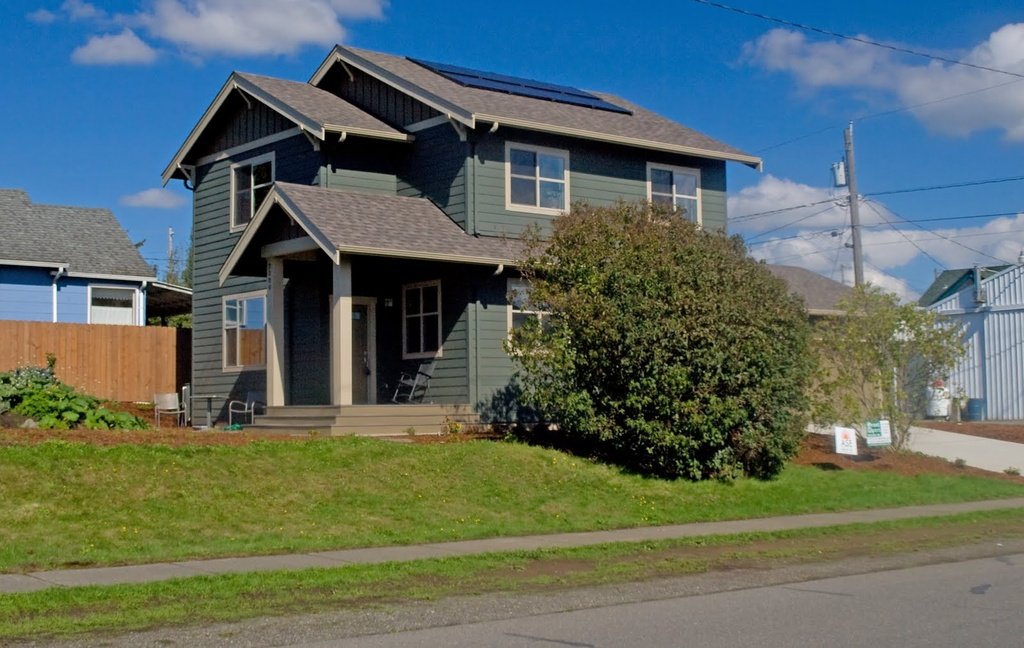 This photo of our house was taken before we moved in. Since then, we have taken out the huge lilac bush (it was badly overgrown and partially rotten) and reclaimed the entire side yard as garden space. Our main veggie garden is in the same place as the original one was, but it's been completely overhauled. We're planning to expand the front porch to create an outdoor sitting/eating area, and a fence is in the works as well. This is a good "before" photo though, to give you some idea of what we're working with and where we started from.
The Details
House – 1,464 square feet
Lot – 4,792 square feet (1/10th of an acre)
Location – Bellingham, WA – a medium-sized city in the northwest corner of the US, with a population of approximately 80,000
Site – Our house is situated at the far back of a rectangular lot, so we have a large front yard, and absolutely no back yard. Our neighborhood is a mixture of residential, commercial, and light industrial, and our house is just a few hundred feet away from the interstate.
Would we like to live on 40 acres in the country? You bet! But in the meantime, we're not going to let a little something like location stop us from working towards our homesteading dreams. Sometimes we just have to get a little more creative about how we do things. Fortunately, we're creative thinkers (weirdos), not to mention stubborn as all get out, two traits that I think will help us succeed at this way of life we are trying to cultivate. I hope you'll follow along as we attempt to transform our house into a thriving urban homestead. Updates (hopefully many) to follow…