This is my favorite recipe for pizza dough. It's fast, easy, and absolutely delicious.
Go-To Pizza Dough
---
Servings = two 14″ pizza crusts, Time = 2 hours (45 mins. hands-on time)
Ingredients:
1 packet (2 1/4 teaspoons) active dry yeast
2 3/4 – 3 cups all-purpose flour
1 cup warm water (105 – 110 degrees)
1 teaspoon salt (optional)
Directions:
Combine yeast, 1 tablespoon flour, and 1/4 cup water in a measuring cup or small bowl. Let sit for 5 to 10 minutes. If yeast doesn't begin to foam, discard and start over with new yeast.
Pour yeast mixture into the bowl of a stand mixer or a large mixing bowl. Add 2 cups of flour, salt (if using), and the remaining 3/4 cup of water. Mix (either with the dough hook on low speed or your hands), adding more flour, a little at a time, until the dough begins to come away from the sides of the bowl. It will be quite soft and a bit sticky, but if it's completely unworkable, add more flour. I usually end up using between 2 3/4 and 3 cups of flour, but the amount varies slightly each time.
Knead for 8 to 10 minutes on medium speed if using a mixer, or for 10 to 15 minutes by hand. Dough should be smooth and pliable. Transfer to a lightly oiled bowl and cover lightly with plastic wrap or a clean towel. Move to a warm, draft-free location, until doubled in bulk (about 1 hour). I usually set the bowl in my microwave, with the door just slightly ajar. This way, the microwave light stays on, warming the space very slightly, and it's out of the way of any drafts.
Press down on dough to gently deflate. Divide into two even pieces. Return one piece to the bowl and re-cover. Stretch the other piece into as large of a circle as possible, without tearing it. Place it on a parchment lined pan that you have dusted lightly with semolina flour. Press from the center outward until you have a 14″ circle.
Top with your favorite sauce, toppings, and cheeses. Bake for 12 to 15 minutes in a 500 degree oven. Remove from the oven and transfer carefully to a cutting board. Let cool slightly before slicing. Repeat with second pizza.
Recipe Notes:
I know 500 degrees seems a bit excessive, but you need a really hot oven to give this crust it's crispy texture. I have successfully cooked this in a 450 degree oven (that's as high as the oven in my old house would go) and it still works, you just have to increase the cooking time a bit, and the crust won't be *quite* as crispy…but it's still really good 🙂 You can also use a pizza stone to help mimic a wood-fired pizza oven at home. I have one similar to this.
Need some topping ideas? This is my absolute favorite pizza of all time. It may seem a little strange, but trust me on this one! —-> Stacey's Favorite Pizza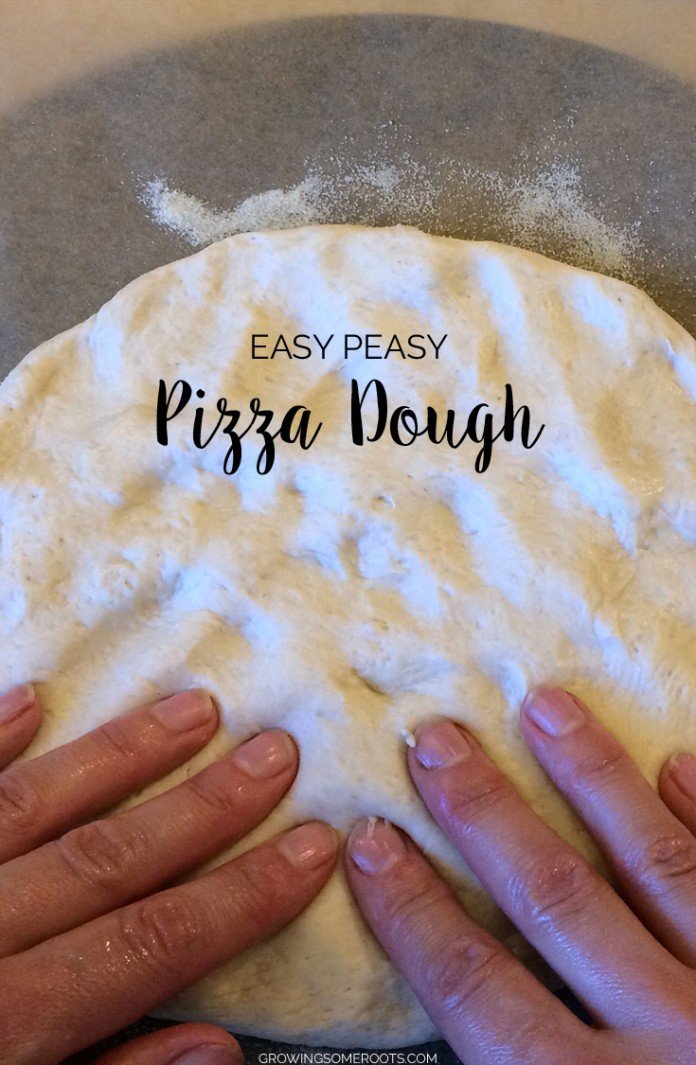 Recipe adapted from Epicurious.
This post contains affiliate links. These affiliate links help support this site. For more information, please see my disclosure policy. Thank you for supporting Growing Some Roots.