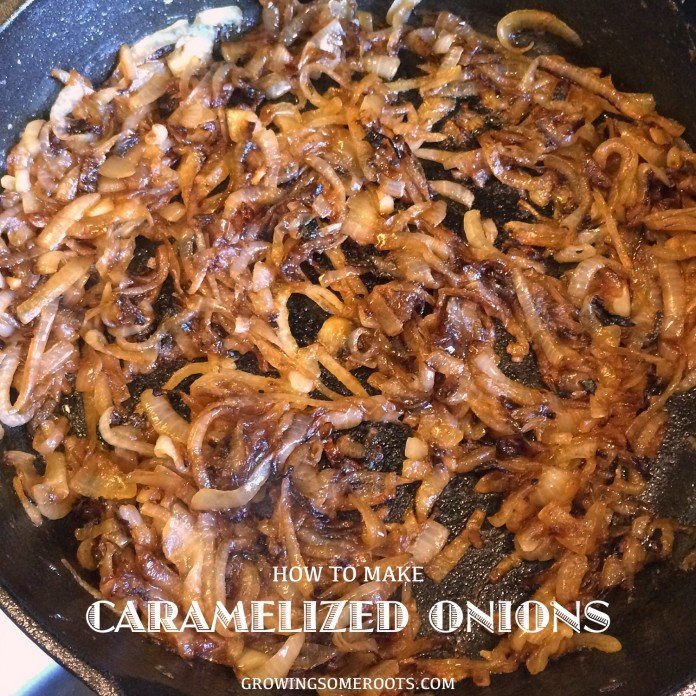 Making caramelized onions takes time. There's just no way around it. In my experience, the process can take anywhere from 45 to 55 minutes. But here's the thing – it's worth every single second!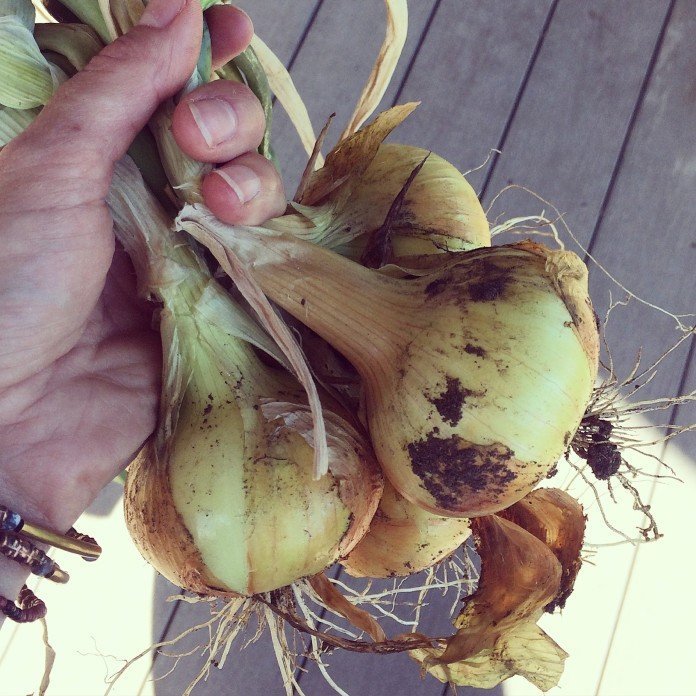 I planted a row of Walla Walla Sweet Onions this spring, and these are the first ones I have harvested. Still a little on the small side, but pretty nonetheless, and perfect for this recipe.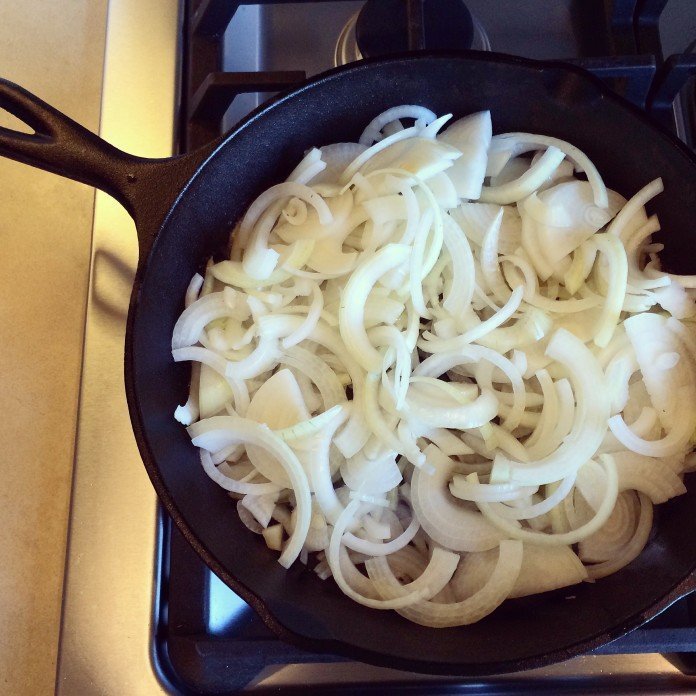 This recipe works best with a cast iron pan. If you don't have a cast iron skillet, I highly recommend this one.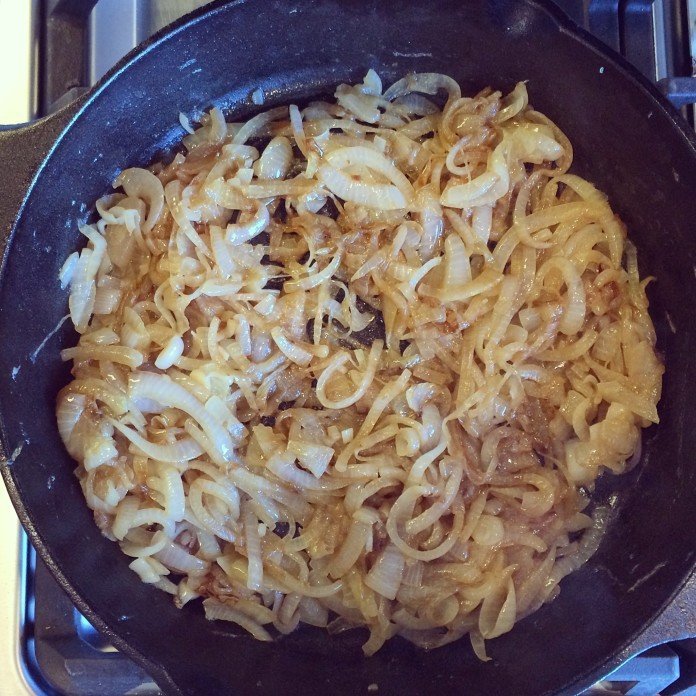 After about 30 minutes, the onions start to turn a light golden color.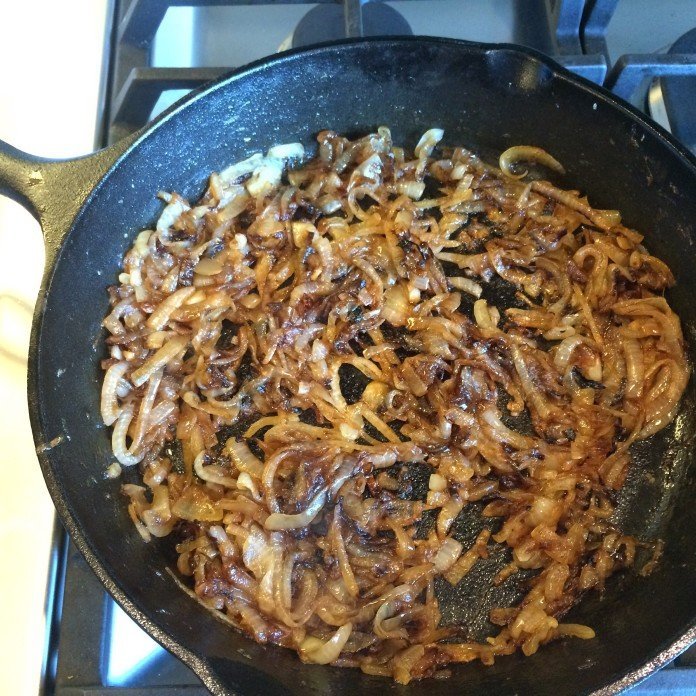 Here are my onions around the 45 to 50 minute mark, shortly after the addition of balsamic vinegar. They're a nice, rich, brown color and taste sweet and delicious (seriously, I could – and sometimes do – eat them straight out of the pan).
This is where I usually stop – BUT, according to The Kitchn (one of my favorite foodie blogs and authority on all things cooking), you should keep going for another 10 minutes or so. Also, they recommend waiting to add the balsamic until the very end. I am not an expert, and their advice is usually very reliable, so next time I caramelize a batch of onions, I'm going to tweak my method a bit. I must say though, I am rather fond of my own version 😉
Caramelized Onions
---
Yield = 1 Cup, Time = About 1 Hour
Ingredients:
2 – 4 onions (1 – 1.5 lbs.) – any type of onion will work, I used Walla Walla Sweets
1 tablespoon butter
1 tablespoon olive oil
2 tablespoons balsamic vinegar or red wine
salt to taste (optional)
Directions:
Slice onions, 1/4-inch thick. Melt butter in a large pan (preferably cast iron) over medium heat. When butter is melted, add olive oil.
Add onions to the pan and stir to coat with butter/oil mixture.
Continue to cook over medium heat, checking onions every 3 to 5 minutes and giving them a good stir. As the fond (dark, caramelized bits that stick to the bottom of the pan) begins to form, scrape it up gently and stir it into the onions. After about 45 minutes or so, the onions will begin to turn a deep golden brown color.
When the onions have achieved the desired level of caramelization, deglaze the pan by adding  balsamic vinegar or red wine, and scraping up the remaining fond from the bottom of the pan. Stir the fond into the onions. Add salt, if using, and stir in.
If you're not planning to use them right away, let the onions cool, and then transfer them to an airtight storage container. They can be stored in the fridge for up to 1 week and in the freezer for up to 3 months.
---
The intensely sweet yet savory flavor of perfectly caramelized onions can transform an otherwise basic dish into something amazing. This pizza is one of my favorite ways to use them (and the reason I was making this particular batch), but you can also stir them into pasta, pile them on a burger, or use them as a base for French onion soup. Plus, they store well – up to 1 week in the fridge or 3 months in the freezer. So, make a big batch and keep some on hand. Trust me, you won't have any trouble finding delicious ways to use them up.
What's your favorite recipe or way to use caramelized onions?
This post contains affiliate links. These affiliate links help support this site. For more information, please see my disclosure policy. Thank you for supporting Growing Some Roots.