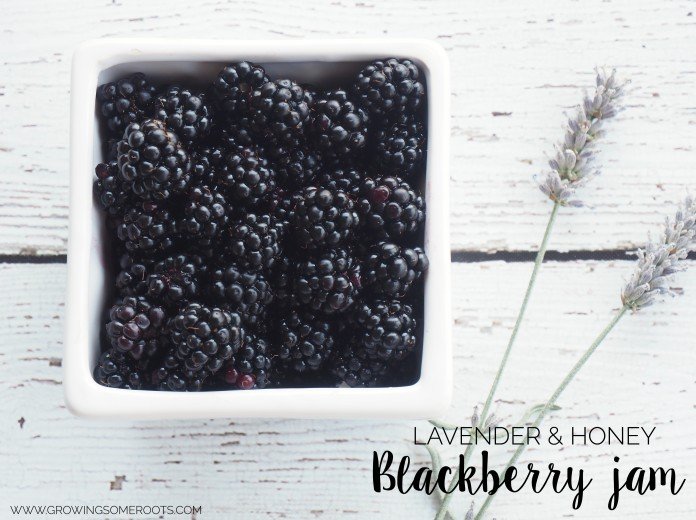 Blackberries just taste like summertime. They bring back sweet childhood memories for me in a way that few other things can compare with. And so, every year, when the berries start to plump up and ripen, I head out with my basket. After hours spent standing in the sun, I head home, arms scratched by the thorns and fingers sticky with berry juice. And happy. My prize is well worth the effort.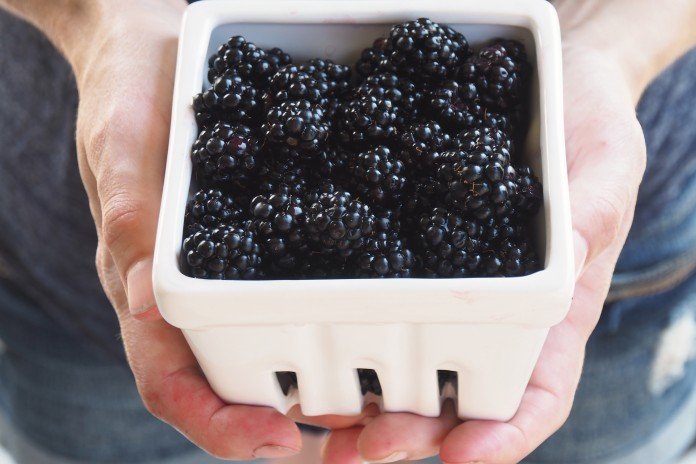 We just went on our first blackberry picking expedition last week. It was still just slightly on the early side around here, so we had to search for ripe berries, but it was worth the effort. We came home with about 8 cups – enough to make a small batch of jam & some blackberry scones. I highly recommend the addition of lavender to the jam. You can use less if you're worried that the taste will be too floral, but it really wasn't overpowering. It just adds a subtle hint of flavor that works perfectly with the berries.
Lavender & Honey Blackberry Jam
---
Yield = About 5 Half-Pint Jars
Ingredients:
4 cups mashed blackberries
1 tablespoon dried lavender
4 tablespoons bottled lemon juice
2 teaspoons calcium water
2/3 cup honey (or 1 cup sugar)
2 teaspoons Pomona's pectin powder (click here to order from Amazon)
Directions:
Wash jars, lids, and bands. Place jars in canner, fill canner 2/3 full with water, bring to a boil. Turn off heat, cover, and keep jars in hot canner water until ready to use. Place lids in water in a small sauce pan; cover and heat to a low boil. Turn off heat and keep lids in hot water until ready to use.
Measure honey (or sugar) into a small bowl. Add pectin powder and stir thoroughly to combine.
Wash berries under running water. Inspect the berries. If you find tiny little white "worms", don't panic! They're actually fruit fly larvae, and are super common in blackberries. Gross, I know, but fortunately they are also completely harmless, and can be removed fairly easily. Click here for more info about getting rid of these little buggers.
Mash the fruit and then measure it. At this point, I like to take about half of the pulp and run it through a food mill or press it through a fine mesh strainer. Then I add the seedless pulp back in. I prefer fewer seeds, but not completely seedless, jam. It's totally up to you, however. You can leave all the seeds in, strain them all out, or leave in some like I do.
Pour blackberry pulp into a saucepan. Add lavender, lemon juice, and calcium water, and stir well.
Bring to a boil and then reduce heat. Simmer gently for 5 to 10 minutes to allow the lavender buds to soften.
Return fruit to a full boil. Add pectin and honey (or sugar) mixture, and stir vigorously for 1 to 2 minutes while the jam comes back to a boil. Once it returns to a full boil, remove from heat.
Fill hot jars to ¼" of top. Wipe rims clean. Screw on 2-piece lids. Put filled jars in boiling water to cover. Boil 10 minutes (add 1 minute more for every 1,000 ft. above sea level). Remove from water. Let jars cool. Check seals. Lasts up to 1 year; 3 weeks in the fridge once opened.
If you are planning to give this jam as a gift, or even if you just want it to look pretty in your pantry, be sure to download a set of our free labels. I recommend printing them on kraft paper, but any type of cardstock will work. They're formatted to print on standard 8.5″ x 11″ paper. After you print them, cut around each tag, punch a hole at the top, and attach them to the jars with a piece of twine or string.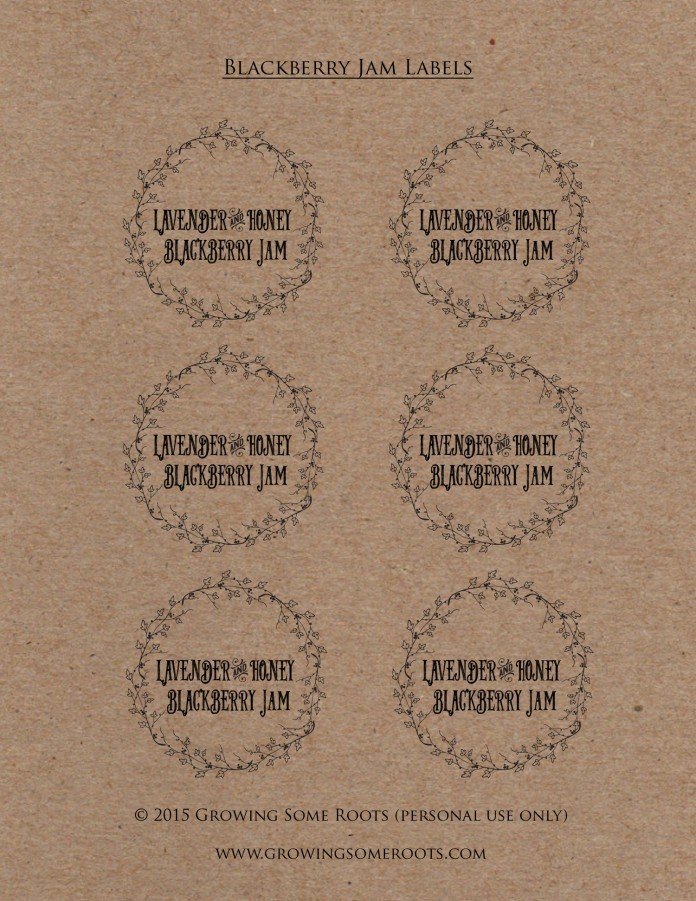 Download Labels – PDF  ||  JPG
Recipe adapted from here.
This post contains affiliate links. These affiliate links help support this site. For more information, please see my disclosure policy. Thank you for supporting Growing Some Roots.