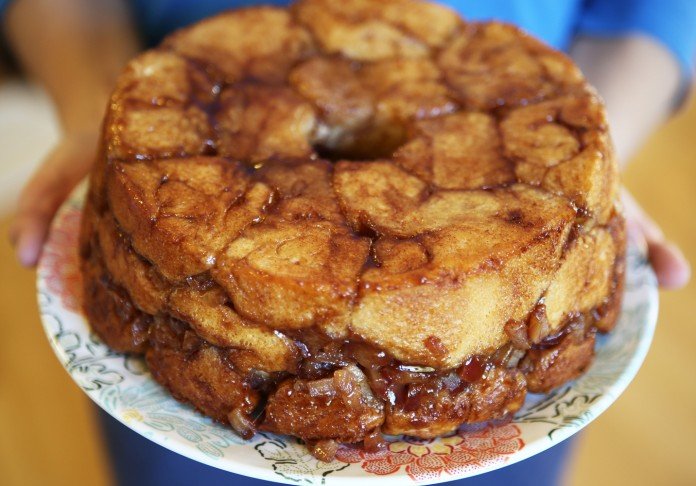 Last week, we took a drive out to a u-pick apple orchard, to celebrate the first day of fall. It was a gorgeous, sunny afternoon, with just a touch of chill in the air. As we ran and played amongst the corridors of trees, it felt as though the rest of the world had fallen away. We filled sacks with the most gorgeous apples I have ever seen – so big, they needed two hands to be plucked from their trees. The boys whooped and hollered in excitement each time they found the biggest, or the reddest, or the most perfect apple. And we left with full baskets and fuller hearts.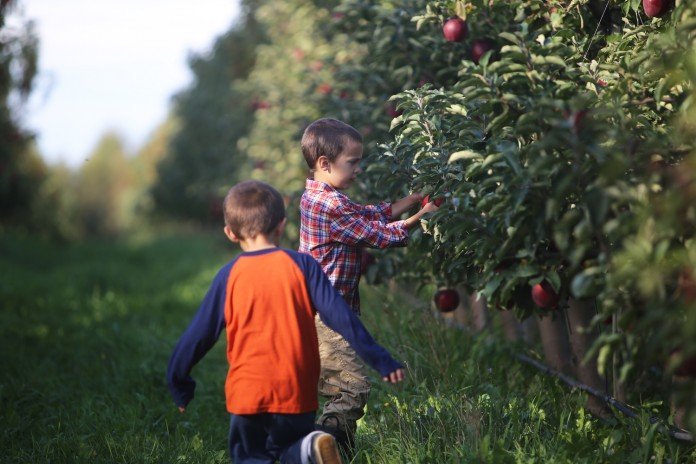 I knew I wanted to make some sort of sweet apple bread – something similar to the apple pull-apart rolls they make at my favorite coffee shop. My first attempt was good, but not quite what I was looking for. I made a sweet dough and sliced it into strips, layering apples in between the strips of dough, and tucking them into a loaf pan. I topped it off with a generous amount of streusel. It was tasty, but the cinnamon sugar goodness of the streusel was all on top. I kept thinking it would have been better if the streusel was distributed throughout the dough.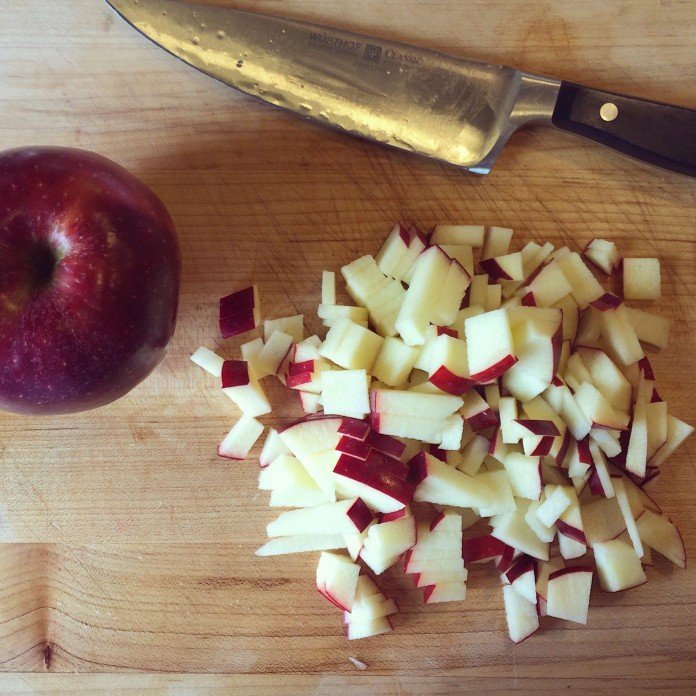 For my next attempt, I decided to coat each piece of dough in cinnamon sugar, and skip the streusel. I used a bundt pan, rather than a loaf pan, so that it had plenty of room to expand. I realized, after flipping through some recipes for inspiration, that this is how "monkey bread" is made. I've never made monkey bread before, but basically that's what this recipe is – apple cinnamon monkey bread. I'm still partial to the name "pull-apart bread", but no matter what you call it, this one's a keeper!
Apple Cinnamon Pull-Apart Bread
---
(servings = 8, time = about  3 1/2 hours)
Bread Dough
Ingredients:
1/2 cup unsalted butter, melted
3/4 cup water
1/2 cup milk
2 1/4 teaspoons active dry yeast (1 packet)
1 egg, lightly beaten
4 1/2 – 5 cups all-purpose flour (divided)
1/4 cup sugar
Instructions:
Combine melted butter, water, and milk in a small saucepan. Warm to about 110 degrees, stirring constantly. Add yeast and let sit for 5 to 10 minutes, or until foamy.
Meanwhile, combine 2 1/2 cups of the flour and all of the sugar in a large bowl (or in the bowl of a stand mixer).
Add egg to yeast mixture. Stir to combine. Pour liquids into flour mixture. Stir, either by hand, or with the dough hook of a stand mixer on low speed, until all the liquid has been incorporated. Add additional 2 to 2 1/2 cups flour, kneading until the dough is smooth and elastic (about 5 minutes in the mixer or 10 minutes by hand).
Transfer dough to a greased bowl, turn to coat. Cover lightly with a kitchen towel or plastic wrap. Let sit in a warm, draft-free location until almost double in size (about 1 hour).
While dough is rising, prepare apple filling.
Apple Filling
Ingredients:
2 large (or 3 medium) apples, chopped into 1/4 inch pieces (about 5 cups)
3 tablespoons unsalted butter
1/4 cup sugar
1 teaspoon ground cinnamon
1 teaspoon vanilla extract
3 tablespoons heavy cream
Directions:
Core and chop apples into 1/4 inch pieces (I left the peelings on, but you can peel them if you prefer). Combine sugar and cinnamon in a small bowl.
Melt butter in a large pan over medium heat. Add apples and stir gently to coat with butter. Add sugar mixture to the pan, stir. Cook gently, stirring often until apples begin to soften (about 5 minutes).
Add vanilla extract and cream. Stir into the apple mixture. Continue to cook for another 5 minutes, or until the liquid is thick and caramel colored. Remove from heat. Transfer apples into a fine-mesh sieve set over a small bowl. Reserve excess liquid for later.
Cinnamon Sugar Coating
Ingredients:
1 1/2 cup sugar
1 tablespoon ground cinnamon
2 tablespoons unsalted butter, melted
4 tablespoons milk
Directions:
Preheat oven to 350 degrees. Grease a 10 to 12 cup bundt pan – preferably not the kind with a removable bottom.
Combine melted butter and milk in a small bowl. Set aside.
Gently punch down dough to deflate. Transfer to work surface (lightly floured if the dough is sticky) and roll into a log that's approximately 18 inches in length. Cut in half, then cut each piece in half again, repeating until you have 64 balls of roughly 3/4″ to 1″ in diameter. These don't have to be perfectly round, and it's completely fine if they're not all exactly the same size – this part of the recipe is very forgiving.
Dip each ball of dough into the milk & butter mixture. Roll in cinnamon sugar to coat. Press pieces of dough into the pan so that they completely cover the bottom. Spread half of the apple mixture evenly over the top of the dough. Add another layer of dough pieces, followed by another layer of apples, and finally a layer of dough. If you have extra pieces of dough, just keep layering them on top. Cover pan lightly with a clean kitchen towel or a piece of plastic wrap. Set aside in a warm, draft-free place until almost double in bulk (45 minutes to 1 hour).
Pour the remaining liquid from cooking the apples over the top of the bread. Bake for 40 to 45 minutes, covering with foil if it starts to brown too quickly. Remove from oven and let cool for 10 minutes before transferring to a serving plate.
Recipe for the dough adapted from Food.com. Recipe for the apple filling adapted from Martha Stewart.